TRIPLE X DIAMONDS
Triple X diamond is a technical term referring to stones that have excellent cut, polish and symmetry in their ratios according to the GIA classification.
The Triple X rating is very important and rare.
WHAT IS A TRIPLE X DIAMOND
The definition "Triple X diamond" refers to brilliant cut diamonds which have been classified by GIA as having excellent cut, excellent symmetry and excellent polishing. X is the abbreviation for Excellent, so Triple X means Triple Excellent. The degrees of cut, symmetry and smoothness of a diamond indicate the quality of the craftsmanship required to transform a rough diamond into a polished stone. These three factors influence the interaction a diamond has with light. For this reason Triple Excellent diamonds are perfect diamonds.
Think of a diamond as a succession of tiny angled mirrors, what gemologists call "facets". A brilliant cut diamond has 57 or 58. These facets reflect light to each other,
It is an incredible light show that changes with the slightest movement, and it is the reason why light influences the appearance of a diamond. The characteristics of the facets, their angles, dimensions and mutual arrangement, as well as the quality of their surfaces, indicate the quality of the diamond cut and are essential to provide the diamond with the expected brilliance.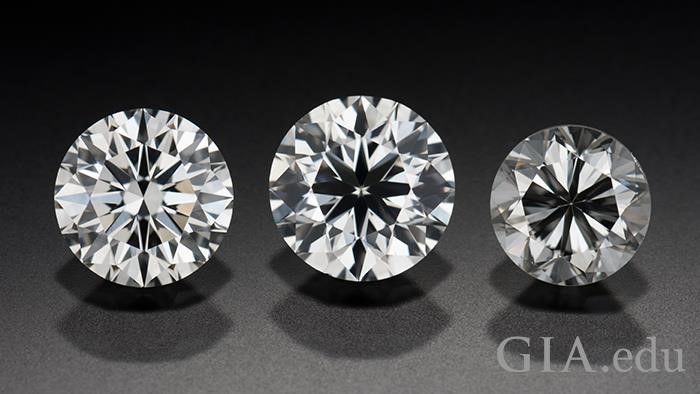 This diamond trio demonstrates why the cut is important.
These diamonds have cut grades:
Excellent, Good, Poor
THE THREE FACTORS THAT DETERMINE THE THREE X's
THE THREE FACTORS THAT DETERMINE THE THREE X's